Walking Festivals
Information for 2022 Walking Festivals
Looking forward to 2022 some walking festival organisers have already set dates for their events, even though detailed walk information may not yet available. Where 2022 dates have been confirmed we have given them below, so you can assume the event will take place. We expect many of the previous festivals will be repeated in 2022 but unless we have given firm dates this cannot be guaranteed. We will update as information becomes available.
We have left listings of the 2021 or earlier festival details as you may wish to follow the links for earlier event reports or general information. The festivals are listed chronologically below.
Take care and stay safe. Best wishes from our team.
Crickhowell Walking Festival - 5 to 13 March 2022
The festival team are planning a great week of walks and events. There is an exciting programme of 86 walks at all levels and difficulty with something to suit everyone, whether you are happy trekking all day across the tops of the Black Mountains and Brecon Beacons or would rather keep to paths and the lower slopes. All the walks are led by experienced local guides. As usual there will be a programme of evening events. Further information at: www.crickhowellfestival.com
Chepstow Walking Festival - 20 to 24 April 2022
This year's festival is extra special as its the 10th anniversary of Chepstow being accredited as a Walkers are Welcome town and to add to the celebration, they have joined forces with the South Wales Long Distance Walking Association who are hosting their event Offa's Twisted Wye Kanter at Chepstow on 24th April 2022.
The Chepstow festival offers the walker an extensive programme of guided and self-guided walks in the beautiful Lower Wye Valley and beyond discovering it's hidden and not so hidden gems. The walks will suit most abilities and the organisers aim is to have fun and enjoy the great outdoors with like-minded people.
Further information on both events: https://www.walksinchepstow.co.uk/
This link will also direct you to the SWLDWA website for further information on their event.
Mole Valley Spring Walking Festival - 20 to 27 April 2022
This hugely popular walking event set in the Surrey Hills is back with an enormous variety of walks on offer. There is certain to be something to appeal to everyone during the eight-day period.
The walks are free for all to enjoy, and most do not need to be pre-booked. The helpful, entertaining, and knowledgeable volunteer walk leaders will make sure you will have a safe, enjoyable and uplifting experience.
Some of the walks will include a stop at a pub or a café; others will simply have a picnic lunch break. The more adventurous types might find a nocturnal walk to be a thrilling and unconventional alternative. This year most of the walks will be between 3 and 15 miles and for the more energetic walkers there will be an opportunity to walk every day during the course of the event, should they so desire.
Further Information: http://www.molevalleyramblers.org.uk/festival
Kendal Walking Festival - 6 to 9 May 2022
This year will be the fifth Kendal festival, and it is returning to the organisers favoured weekend in May which usually provides beautiful spring weather. This is the time the local landscapes are at their most picturesque. An added advantage of a May Festival is that we avoid the rush and crush of the Lake District during the peak holiday season.
Explore this wonderful town with its roots embedded so deeply in the landscape that surrounds it. Choose from 14 guided walks on offer in the idyllic Lakeland countryside and enjoy this historic Kendal. The festival has something for everyone regardless of his or her walking capabilities. Kendal makes a superb base for those who enjoy walking. Surrounded by beautiful scenery it offers a wide variety of walking experiences.
Further information: https://www.kendalwalkingfestival.co.uk/
Malvern Hills Walking Festival - 28 May to 5 June 2022
The large selection of 70 walks comprise a mix of day, morning, afternoon and evening walks; varying degrees of difficulty from gentle to strenuous; and a range of themes, from heritage, farming, music and Elgar, history, art, geology, nature, trees and gardens. Add to that, the fact that the Malvern Hills are in an Area of Outstanding Natural beauty and it's not surprising the Festival is so popular.
The joy of these walks is that as well as the walking, and the scenery, and the fresh air, transport is included. Dedicated coach transport takes walkers to that day's starting point each morning and returns to Malvern each evening.
Booking will be open from beginning of January and places fill quickly, so book early if you wish to visit this festival.
Further information: www.malvernwalking.uk

Walk Scilly Walking Festival
We expect that this year's spring festival will be offering the usual wide choice of around 40 themed and guided walks, including a handful of wildlife sea safaris, across 10 days and nine islands.
There's no better way to explore the islands' amazing scenery, wildlife and cultural heritage than Walk Scilly's rambles, hikes and strolls, with expert local guides bringing the treasures and hidden gems of each island to life.
Further Information: https://www.visitislesofscilly.com/walkscilly
Walk Islay Festival
The islands of Islay and Jura have something to offer everyone. Whether it's our famous whisky, spectacular wildlife, peace and tranquillity, music, beaches or heritage. You are certain to find something special that may entice you back again.
The walking festival on Islay lets you explore the natural beauty of places such as Killinallen with its white sands at Killinallan Point and views across turquoise waters to Mull, Colonsay and Skye's Cuillin's. There are also two RSBC nature reserves at Loch Gruinart and Oa, and the Three Distilleries Pathway. All of these can be enjoyed on the choice of ten festival walks. The 2020 walks programme will be published at the end of January.
Further information visit http://www.islayjura.com/view-details.php?id=535
Galashiels Walking Festival
Galashiels is a small town in the centre of the scenic Scottish Borders. It can be reached by train from Edinburgh Waverley or bus from Edinburgh or Carlisle. This is a small local festival but the organisers will welcome anyone who would like to explore this area in the company of knowledgeable local walkers.
Last year the nine walks included: Walk around Gala Policies and around the side of Gala Hill to the Roger Quin Stone; Evening Walk, Gala Water Tweed and Southern Upland Way; Tweedbank and Abbotsford; St Mary's Loch Circular (The Ring of the Loch); Southern Upland Way Traquair Kirk to Tibbie Shiels; Ladhope and Heatheryett; Buckholm Tower and Dobby`s Grave; Clovenfords to Galashiels via Torwoodlee and Meigle; Southern Upland Way - Traquair to Galashiels.

Ulverston Walking Festival
This year is the 21st anniversary of the Ulverston Walking Festival and what better place to spend a few days exploring the southern fringes of the outstandingly beautiful Lake District and not far from Morecambe Bay with its sandy beaches and abundant wildlife. There will be the usual great selection of walks to suit all abilities which will allow you to experience the best of this beautiful area.
We expect many of the walks will be the same or similar to last year's programme, possibly with some new additions and a theme around the number 20. Details of the 2020 walks will be available during February. Fees for the walks will again be at an amazingly low cost because the organisers do it for fun and just want to cover their costs.
For further information, visit www.ulverstonwalkfest.co.uk
Haltwhistle Spring Walking Festival
Haltwhistle lies between the most spectacular section of Hadrian's Wall in the Northumberland National Park and the North Pennines AONB. The beautiful South Tyne valley runs southwards up into the hills. The Haltwhistle Spring Walking Festival is a well-established event which gets booked up very quickly. This will be their 33rd walking festival and as usual the organisers will put together an excellent programme offering varied walks in this lovely area.
There will be a choice of 23 walks over the nine days of the festival including a longer and a shorter walk each day plus Special Interest walks on some days.
Further information: www.haltwhistlewalkingfestival.org
Isle of Wight Walking Festival
Join the Isle of Wight Walking Festival 2020 and take part in one of the UK's longest running walking festivals. Discover unique routes with experienced local walkers and enjoy an extensive walks programme that includes walks across, over and around the Island. There will be around 100 walks for you to choose from across this two-week period, from short to long, flat to hilly, beaches to forests and everything in between with over 50% of walks being new this year.
With local and visiting walkers of all ages and abilities setting off on trails across the Island's picturesque landscape. Walkers will get up close and personal with the best of the Island's stunning scenery, as they journey from the beautiful chalky cliffs of the west coast to the lush green rolling hills of the east. The Isle of Wight is often referred to as 'England in Miniature', so in just one day of walking you'll be able to see the very best of the English countryside from sand dunes and pebbly coves to thatched villages and bustling sailing towns.
Further Information: www.isleofwightwalkingfestival.co.uk
Settle Carlisle ride2stride Walking Festival
ride2stride is a festival of walks, talks and music along the fabulous Settle-Carlisle railway line. It's a week-long celebration of the wonderful landscape and culture of the western Dales and Eden Valley. The festival is made up of lots of events and activities and things will be happening along the length of the line. Walks will be led from stations by experienced walk leaders. Speakers will share their local knowledge and love of the area, and the pubs will be buzzing with music and song.
ride2stride is for everyone who loves the Yorkshire Dales. Whether you travel to an event by train, live along the line or book your holiday to take advantage of the festival, we're sure you'll have a great time.
Further Information: http://www.ride2stride.co.uk
Alton Walking Festival
Alton Town Council has been hosting a Walking Festival since 2013, which has grown year on year as demand and interest has increased. They look forward to welcoming you in 2020 to a range of guided walks that will give you the chance to explore the town and the beautiful surrounding countryside.
Whether you are looking to delve into the town's history, enjoy the local shops or are a keen walker looking to enjoy a day out in East Hampshire countryside, the programme will offer something for all ages and tastes. The aim of this festival is to provide local residents and visitors to be able to actively engage with the event which is designed to promote healthy living. No details are available yet. Further information, visit: http://www.alton.gov.uk/Alton_Walking_Festival_2019_25042.aspx
Talgarth Walking Festival
This will be the eighth year the festival has been held. Close to Brecon, Crickhowell and Hay-on-Wye, Talgarth is an ideal base for visitors wishing to explore the Brecon Beacons National Park on foot, whether it's the high peaks or the lush green valleys of the Wye and the Usk which capture the imagination. Talgarth is a 'Walkers are Welcome' town and is known as the Gateway to the Black Mountains.
On offer will be a great range of 35 walks from high level strenuous hikes to gentler strolls all taking in the glorious mountain scenery.
Further information: www.talgarthwalkingfestival.org
Walk the Chalk Festival
This is a new festival for 2018 which is a heritage lottery funded project intended to encourage people to access the beautiful Kent Downs. The festival will offer a mix of guided and self-guided walks. The event website given below currently just has self-guided walks listed, but will soon have more events as the organisers get partners on board.
The festival area sits within Kent's Garden of England and extends from Kemsing Down up to Cobham and across to Detling Hill and covers approximately 10,000 hectares in total. The area includes chalk hills which are the remains of the rim of the Wealden anticline which were created 65 million years ago. The landform is dominated by the North Downs escarpment and encompasses long dry valleys which extend along the dip slope to meet the River Medway, responsible for the deep trenches through the chalk hills.
Further information: http://www.oldchalknewdowns.org.uk/action
Llangollen Walking Festival
Walking in North Wales doesn't get much better than Llangollen, a beautiful Victorian Welsh border town with so much to offer the casual and the keen walker. The organisers warmly invite you to explore the town and landscape in the company of friendly local and professional guides who will share with you their knowledge of local history, heritage and folk tales whilst you walk through some of the most spectacular and mystical landscape in North Wales.
Previous events included a short leisurely history walk each day in the company of a Green Badge guide in this UNESCO World Heritage Site. A ride on a heritage steam train for a nostalgic ride followed by a scenic valley meander or a high level wilderness walk. A visit to a romantic medieval castle and abbey ruins plus stunning cliff walks for big views and moor.
Further information: www.llangollenwalkingfestival.co.uk
Ironbridge Gorge Walking Festival
Now in its 15th year, the annual Ironbridge Gorge Walking Festival is offering 6 free walks each day, making it probably the biggest in the West Midlands and one of the best in the country. The Festival theme will be similar to previous years with walks ranging from 2 to 21 miles covering a whole host of topics from the wonderful landscape and geology of the Ironbridge Gorge World Heritage Site to the wildlife that inhabits the Gorge's ancient woodlands. The walks are graded in terms of suitability for walks for everyone through to walks for experienced countryside walkers. 
Previous events have included an 8-mile steam-train walk taking in the Telford Steam Railway; a 4-mile walk that looks at Ironbridge through the eyes of tourists over the past 200 years; family walks and a 4.5-mile walk, encompassing a photo trail around the local woodland.
There are a number of routes for the more serious walker with the aim of providing a challenging but enjoyable day out. They range in length from 12 to 21 miles
Further information: www.ironbridgewalking.co.uk
Bingley Walking Festival
Bingley 'Walkers Are Welcome' are very pleased to announce their fourth one day Walking Festival to be held on May Bank Holiday Monday.
In previous years there were five walks on offer, all starting from the Market Square but at different times. The walk themes were: Bingley/Saltaire Walk, Long Walk, Mystery History Walk, Micklethwaite Walk, Family Walk. This year will probably be a similar format.
Bingley is a Market Town located north of Bradford in Yorkshire in the beautiful Airedale Valley. The surrounding villages of Cottingley, Crossflatts, Eldwick, Gilstead and Micklethwaite are also part of Bingley Town Council. The area is crossed by both the River Aire and the Leeds & Liverpool Canal.
Further Information:
http://www.bingleywalkersarewelcome.org.uk/events/walking/bingley-walking-festival/
Coleford Area Walking Festival
The Coleford Area Walking Festival returns this May offering walks in and around Coleford in the beautiful Forest of Dean. The Coleford area abounds in natural beauty, intriguing history and is a playground for outdoor pursuits and is an ideal base for a walking festival. Coleford Area Walking Festival has been a collaborative project led by Coleford Area Partnership and Coleford Town Council.
Walks to suit families, dog walkers, heritage lovers, wildlife fans, the serious or occasional rambler. There are 24 walks planned over the nine days of the festival. Full programme of walks was launched at the beginning of March 2020.
Further Information: www.colefordareawalkingfestival.co.uk
Henley Walking Festival
Henley-on-Thames is organising it's 2nd Walking Festival this year. Located in one of the most beautiful areas in the country, nestled in the Chiltern Hills on one side and the beautiful Thames on the other. There will be short and long walks on offer. Henley is a bustling 'Walkers are Welcome' town with many places to eat and drink and many shops including two outdoor shops, and a great choice of places to stay.
Further information Henley-on-Thames walking festival
Chesterfield Area Walking Festival
The Chesterfield Walking Festival is a well-established annual event with a wide range of walks exploring the Chesterfield area. Most walks are free and are led by a fully trained guide who knows the history, wildlife and the best countryside to walk through (as well as the best pubs to visit) in the beautiful Chesterfield landscape.
Walks in previous events included a magical fairy trail at Creswell Crags, combining a walk with a boat trip along the Chesterfield Canal; the Chesterfield-Round Walk, a 34-mile trek through the countryside that surrounds the town, and the 'Beast of Bolsover', a 20-mile circular hike. There were also many less strenuous walks such as evening strolls of 5 or 6 miles, a short walk around the town or a family ramble of 2 or 3 miles. We expect a similarly enjoyable programme to be planned for 2020, although details may not be available until February.
Further information: www.chesterfieldwalkingfestival.co.uk
Suffolk Walking Festival
Now in its 13th year, the Suffolk Walking festival has established itself as one of Britain's premier walking festivals with over 120 walks and events across the county. The 2020 festival is going to be as creative, imaginative and ambitious as previously with some new walks. From a dawn chorus to hidden orchids, Arthur Ransome to John Constable, and from Anglo-Saxons to naval heritage, there's even murder, myths and a little bit of magic.
The festival has something for everyone: short strolls, gentle rambles, long hikes; family walks, history walks, nature walks; story-telling, art lessons, photography courses; walks with boat trips, walks with breakfasts, walks with train rides.
All walks are ticketed, and all tickets must be purchased in advance.
Further information: www.suffolkwalkingfestival.co.uk
Bishop's Castle Walking Festival
Bishop's Castle is a small market town surrounded by the wonderful Shropshire Hills Area of Outstanding Natural Beauty, near the Welsh border and off the beaten track. Local footpaths lead over open hilltops, through winding valleys, tiny hamlets, country lanes and sometime the remains of ancient hill forts. There are many amazing views.
The 22nd Festival welcomes walkers of all abilities. There will be a great choice of walks ranging from leisurely strolls to challenging hikes, all in small groups, guided by experienced leaders, amid the fabulous unspoiled countryside of the Shropshire Hills. There will also be a programme of evening events. Bishop's Castle is an accredited Walkers are Welcome town and is a great place to visit.

Further details at: www.bishopscastlewalkingfestival.co.uk.
Contact us at: bcwalkingfest@gmail.com
Winchcombe Cotswold Walking Festival
This annual 3-day event offers a choice of at least 5 walks every day, with something to suit everyone. You can choose walks of varying length and difficulty from strenuous full day walks on the Cotswold Way to half-day walks, short, level health walks, an evening walk, and a historic town walk. Since the first festival in 2010, the event has grown in popularity, attracting walkers from all over the country and some from abroad. The walks are led by experienced leaders with a good knowledge of the local area.
Winchcombe is set in the heart of the beautiful Cotswolds. It has a timeless quality about it which makes it an attractive centre for walkers. The town has "Walkers are Welcome" status which means it will endeavour to make your stay and experience memorable.
The programme is usually published in early February on the website
https://www.winchcombewelcomeswalkers.com/walking_festival/
Trefriw Walking Festival
Snowdonia's premier Walking Festival. We expect to see another packed 3-day event with 7 walks to choose from each day to suit all ages and abilities; thats 150 miles of glorious walking in the Snowdonia National Park.
The beauty of Snowdonia National Park provides a dramatic backdrop to a programme of exciting activities for all the family, along with the return of some of your favourite walks. Full details of the walks programme will be available in February.
Further information: www.trefriwwalkingfestival.co.uk
Prestatyn and Clwydian Range Festival
This festival, now in its 15th year, will be again offering 3 days of walking and activities that will provide you with the opportunity to explore, learn more and enjoy the unique surroundings that Prestatyn and Clwydian Range AONB has to offer. The area is a wonderful base for walking enthusiasts. Prestatyn was the first town in Wales to be awarded the 'Walkers are Welcome' status, so you are assured a friendly visit.
Walks have been planned arranged into four groups according to difficulty, providing walks suitable for all abilities. There will be over 20 walks over the three days and some will reflect the areas coast, exploring sections of the Wales Coast Path.
Further information: www.prestatynwalkingfestival.co.uk
Isle of Arran Mountain Festival
An opportunity to meet like-minded people, discover a fascinating island and have unforgettable days in the safe hands of experienced local leaders.  With names to inspire the imagination, such as Ceum na Caillich (Witch's Step) Caisteal Abhail (Castles) and the Sleeping Warrior, the mountains of Arran are some of Scotland's most amazing landscapes. From wildlife-watching walks along the island's coastline to airy scrambles on towering granite ridges. Scottish hillwalking at its best!
Arran is one of the most accessible of the Scottish islands, with good transport links by ferry, road, rail and air.  At the end of an exhilarating day in the outdoors, there are plenty of hostels, hotels, cottages and campsites for comfort and relaxation. Arran Mountain Festival is Scotland's premier hillwalking and mountaineering festival. In previous years 20 walks have been planned over the four days of the festival.
Further information: http://www.arranmountainfestival.co.uk
Lincolnshire Wolds Walking Festival
The Lincolnshire Wolds is a great place for walking and to explore this fascinating Area of Outstanding Natural Beauty. The festival will return in 2021 with a revamped and improved formula. The programme of walks has previously been designed to suit all abilities; whether you haven't walked for ages or you are a sturdy regular rambler, or you simply need a walk that is pushchair or toddler friendly, there were walks just for you. Stretching over the Lincolnshire Wolds character area with views of the River Humber in the north and The Wash in the south, the Lincolnshire Wolds Walking Festival celebrates the varied terrain of the East Lincolnshire landscape.
Further information: www.woldswalkingfestival.co.uk
Chilterns Walking Festival
The Chilterns Walking Festival invites people to explore the landscapes and locations of The Chilterns Area of Outstanding Natural Beauty, which covers the countryside from Goring in Oxfordshire to Hitchin in Hertfordshire. The spring festival offers an exciting programme of walks, talks and special events. No details are available at the moment.
Further information: www.visitchilterns.co.uk/walkingfest
or on Facebook at ChilternsWalkingFestival/
National Forest Walking Festival
This year will be the 13th festival and will, as previously, include many walks that range from gentle strolls to strenuous rambles including routes for seasoned walkers as well as pushchairs, wheelchairs and family groups. Every walk is graded for difficulty and guided walks are led by an experienced leader with local knowledge. Health walks are suitable for all ages and those recovering from illness and are also led by a trained volunteer.
All the walks within the programme can be found throughout the 200 square miles of forest area across Derbyshire, Staffordshire and Leicestershire.
Further Information www.thenationalforestwalkingfestival.org.uk
Rutland Walking and Cycling Festival
This festival is aimed at promoting an active and healthy lifestyle. It's a perfect opportunity to meet new people with similar interests, explore different areas across the historic county, whilst witnessing the breath taking views of the countryside.
The first week includes a complete circuit of the 'Rutland Round' covering 65 miles over 7 days. This long distance path follows the county boundary, occasionally delving in to see beautiful market towns and Rutland Water. You can take part just for one day or the whole week. The second week includes a good selection of shorter walks with options suitable for everyone.

Llanelli Walking Festival
Llanelli Ramblers organise and host the annual Llanelli Festival of Walks which is a Spring Bank Holiday event that has attracted hundreds of visitors to the town since its beginnings in 1995 and has established Llanelli as a popular centre for walking. The 2018 Festival of Walks is open to all, old and young, non-members and members alike.
The main theme of the 2018 Llanelli Festival is Welsh legends and the sea. There is a choice of 15 walks to suit all ages and abilities, in areas including Cardiff Bay, Gower, Pembrokeshire and, of course, Carmarthenshire. The Festival ends on Bank Holiday Monday with the ever-popular traditional Welsh tea.
Further information: www.llanelliramblers.org.uk/festival/
Vale of Glamorgan Walking Festival
This will be the 11th festival set in rural and coastal villages and landscapes of the Vale of Glamorgan, South Wales. It features over 20 walks of 3 to 12 miles with some of special interest including photography, local history and map reading, all led by friendly and experienced leaders. There will be family activities throughout the festival.
Further information: www.valeofglamorganwalkingfestival.org.uk
Details of walks will be available on the festival website from March 2020
Guernsey Spring Walking Festival
A fantastic range of over 50 guided walks, all led by Gold or Silver Accredited Guides. There are walking tours every morning, afternoon and some evenings. Explore the Island's most beautiful and intriguing spots. Learn more about its fascinating heritage, local culture, hidden gems and much more. Whether you want to explore the countryside, coastal routes or the charming town centre, you'll be able to choose from relaxing strolls, challenging rambles and everything in between. Prices start at £6 per person.
Further Information: https://www.visitguernsey.com/see-and-do/events-festivals/spring-walking-festival/
The festival will be repeated later as the Autumn Walking Festival from19th September to 4th October 2020.
Angus Glens Walking Festival
The beautiful Angus Glens and surrounding countryside hosts the Angus Glens Walking Festival. Previously there have been about twenty spectacular walks over 4 days, through breath-taking scenery, including open moorland, heather-clad hills, mountains, rivers, corries and crags.
Mountain Leaders, Countryside Rangers and Estate Managers with excellent local knowledge, will guide your walks and share their knowledge of local history and wildlife along the way. Popular walks include Jock's Road and Scotland's Oldest Right of Way. You can also enjoy a Munro, try Mount Keen, Broad Cairn, Tom Buidhe, Driesh and Mayar. The festival programme offers a range of options to entice new walkers of all abilities to enjoy outdoor rambling as well as daily heightened challenges for experienced walkers. No detailed walk information is available yet.

Gower Walking Festival
In this small pocket of south west Wales, measuring just 19 miles long and covering over 70 square miles, Gower has an abundant rich variety of landscape, flora, fauna and a cultural heritage too. The size and terrain makes this one of the most accessible areas to walk for all, and our festival offers everyone the opportunity to try something new, revisit a much loved haunt, or simply stroll along the water's edge.
All Gower Walking Festival walks are guided by people who know about and love Gower and who will share their expertise during the walks. Previously there were walks about castles, churches, industry. Walks for wheels, for dogs, for poets and photographers. There were easy walks on the Mumbles waterfront, moderate walks to Pwll Du and strenuous walks to cover the four peaks of Gower. The programme this year may be similar..
Further information: https://gowerwalkingfestival.uk
Elham Valley Walking Festival
Set in the beautiful Kent Downs Area of Outstanding Natural Beauty, the 14 planned walks range in distance from one to twenty-three miles and include visits to vineyards, exquisite gardens, charming villages, special woodlands, a fun walk for children and the challenging Elham Valley Way. Enjoy the landscape and learn about its history at this weekend festival.
Guided by Explore Kent's Kay Hammond, walk in the footsteps of the famous, discovering, for example, the childhood home of Audrey Hepburn. Amble along peaceful footpaths nestled between hedgerows, woodland and a patchwork of fields revealing the quintessentially Kentish views of this beautiful landscape, then join the festival social event for a drink and refreshments.
Further information: www.elhamvalleywalkers.co.uk
Corsham Walking Festival
Corsham is an historic market town on the fringe of the Cotswolds and at the heart of the Corsham Walking Festival, from where walks on ancient paths with beautiful views and rolling countryside begin. The town, with its wandering peacocks, offers a peaceful retreat from nearby Bath and Chippenham.
The Festival offers a wide variety of walk themes such as Brunel's railway, quarry tramways, geology, wildflowers, and a treasure hunt. The walks are led by experienced walk leaders.
Brochures should be available from the start of April and on line via the website.
Further information: www.corshamwalkingfestival.org.uk
Moray Walking and Outdoor Festival
From the foothills of the Cairngorms to Moray's award winning coastline, let the Moray Walking and Outdoor Festival take you on an adventure in 2020. Enjoy long Midsummer days exploring Moray's world renowned golden coasts, hills and forests full of hidden fauna and flora, whisky coloured rivers and towns with stories to tell and culture to experience. There's something for everyone; guided walks, talks and events alongside outdoor activities and walking challenges.
So, whether it's a big outdoor challenge or a gentle amble, the Moray Walking and Outdoor Festival welcomes you. The full programme of events is being planned and should soon be complete. The festival is ideal for a short break or longer holiday. Explore great scenery and benefit from the knowledge and experience of local people.
Further information: https://www.themorayway.org.uk/festival/
Herefordshire Walking Festival
This well established festival offers nine days of glorious summer walking. Last year the long distance walk was the The Mortimer Trail which was walked in three sections over three days on the first weekend. There were also themed walks from historical to farming, poetry to bats, including a 20-miler or a bike ride in the beautiful South Herefordshire countryside. We expect the format this year to be similar.
A wide variety of walks for all to enjoy, old favourites & new ideas. What better way to explore the delights of Herefordshire than in the care and comfort of friends?
Further information: www.walkingfestival.com
Redcar/Cleveland Walking Festival
This Walking Festival is an established annual summer event that includes walks for everyone from beginners to the more advanced walker. This year the festival is part of the Cleveland Way 50th Anniversary celebrations. There is a good selection of walks, many of which have been planned with a theme. Walks include: Saltburn Circular, Roseberry Ramble, Kittiwake Walk, Saltburn Beach Nordic walks, Scaling Mill Circular, Mindful Walk, Incredible Insect walk, Nightjar Walk, St Hilda's Well Circular, Skelton Circular, Cleveland Way and Cleveland Street.
To request a booklet, call 01642 496442 / 496428 or email walkingfestival@redcar-cleveland.gov.uk.
Further information is also available at the festival website
http://www.redcar-cleveland.gov.uk/walkingfestival
Quantock Hills Walking Festival
This year's walking festival will be bigger and better than ever with a variety of new walks venturing further into the Quantock Hills and surrounding area. There will be nature rambles, history walks, high level hikes and even a family treasure hunt, all followed by delicious tea and cake here in Nether Stowey.
The Quantock Hills with its rugged heathland and narrow combes was the first wild area in England to be designated an Area of Outstanding Natural Beauty in 1956. The West Somerset coast has a wealth of wildlife as well as Jurassic fossils to rival those of the South coast and the biggest new coastal wetland area in Britain at Steart Marshes.
Nether Stowey was home to the poet Samuel Taylor Coleridge who found inspiration for his poetry from walking in the nearby hills. Coleridge's Cottage is owned by the National Trust and is open to the public. The village makes an ideal base for walking with its village shops, pubs and B&Bs.
Further information: www.stoweywalking.co.uk
or email enquiries@stoweywalking.co.uk
White Cliffs Walking Festival
This festival is now in its sixth year and is becoming the walking event of the year for the South East of England. Centred on the historic towns of Dover, Deal and Sandwich, this week long festival, run by the local Ramblers group, features over 40 walks ranging in length from 1 to 32 miles.
The event attracts over a thousand happy walkers each year from UK and worldwide visiting this historical area. Walks for all abilities and interests, including family walks, historical walks, wildlife walks, smugglers walk, challenging walks and a three-day trekking walk.
Whatever your walking ability or interest, this event offers walks that will tempt you out to discover beautiful coastal and nearby countryside. Bring the children and join the smugglers walk or immerse yourself walking among the fascinating military fortifications. A few special guided walks cost a modest £2. A voluntary contribution is appreciated for all other walks.
For further information, visit: www.whitecliffswalkingfestival.org.uk
Corwen Walking Festival
Corwen is a wonderful base for walking enthusiasts and a fantastic venue for a walking festival which offers walks from the town that suit all levels of walking. From walks around Corwen itself, finding out about the history of the town, to a high level ridge walk along the Berwyn reaching over 800 metres in height, the Corwen Walking Festival has it all. There are guided walks on both days and you have the choice of a full day walk or, with some of the shorter walks, doing one in the morning and another in the afternoon. There are also some evening walks and skills lectures, along with evening entertainment in town.
The area around Corwen is in the Clwydian and Dee Valley 'Area of Outstanding Natural Beauty' and even from the main car park in the heart of Corwen you can see why. Just look up and you will see Caer Drewyn hillfort looking down over the town. Corwen is situated on the A5, at one end of the magnificent and majestic Dee Valley.
Further information: www.corwenwalkingfestival.co.uk
Gillingham Walking Festival
Gillingham Walking Festival aims to highlight the beautiful surrounding countryside, rare wildlife and local history, with over 20 walks, from short themed walks to longer rambles and social events. Explore the hidden gems of the town or tours of the local history, industrial heritage, rich wildlife and riverside walks. Enjoy our gently rolling farmland and explore our medieval Royal Forest. Gillingham, Dorset gained accreditation to the national 'Walkers are Welcome' Towns network in 2015.
Further information: http://gillwalkersarewelcome.btck.co.uk
Wales Valleys Walking Festival
If you like walking, then the South Wales Valleys are definitely for you. The festival organisers say they can't guarantee the weather, but are sure you'll have a wonderful time with the walk guides; listening to their fascinating facts or simply taking in a stunning view or two.
There are currently 16 walks planned and more may be added. All walks have been graded to help you pick the ones that suit your interests and ability. As the walks are through the Valleys' magnificent countryside they may involve the odd hill or two, so please make sure you wear appropriate clothing and footwear.

Guildford Walkfest
This well-established festival will again have a selection of walks spread over the month of September. The walks will offer a range for all abilities including short strolls for beginners, historic walks, wildlife and countryside walks, and full day, 18 mile walk.
Guildford's attractions and beautiful countryside including the surrey Hills AONB make it an ideal location for walking.  Guildford has got it all, it is in the most tree-covered county in the UK, and it has historic buildings, fascinating trails, the beautiful river and perhaps the jewel, the town centre with the High Street and Guildhall. Local groups supply the walks.
Further information at: https://www.guildfordwalkfest.co.uk/
Scottish Borders Walking Festival
The Scottish Borders Walking Festival is the longest established walking festival in Scotland and this year will be based upon Galashiels. This years festival will be a shorter weekend event but will include a full programme of guided countryside walks, special interest free and easy strolls and a varied social events.
Further Information at: http://www.borderswalking.com/
Stonehouse Walking Festival
The Stonehouse Walking Festival includes a wide variety of walks for all abilities. This includes day hikes for fitter walkers through to walks suitable for wheelchairs and pushchairs. All the walks are free guided group walks.
There are some very interesting, themed walks including: Trees, Sustainable Stonehouse, Bird Ringing Demo, History, Stonehouse in Bloom, Family Friendly Walk, Dusk Wildlife.
So come along and find more about Stonehouse and its beautiful surroundings.
Further information visit website www.stonehousewalks.co.uk
Alternatively contact Carol Kambites on 07816 552171
email: councillorkambites@stonehousetowncouncil.gov.uk
Kington Walking Festival
The Kington Walking Festival returns this year with 29 led walks from two to fifteen miles in length and covering such diverse topics as local history, geomorphology, photography, bird watching, art and local gardens as well as our popular Eight Peaks Challenge. The festival is also celebrating the 50th Anniversary of the Offa's Dyke national trail and the 100th anniversary of Alfred Watkins theory of Ley Lines. There are also several evening events for your entertainment.
Further Information: www.kingtonwalks.org
Sheffield Walking Festival
The Sheffield Walking Festival is run in collaboration with Heritage Open Days and this year features 27 walks over ten days, ranging from short urban history and heritage strolls led by experts, through intermediate walks within the rural suburbs, to longer and more challenging routes across the wild moors and beautiful countryside of the Peak National Park. The 'Sheffield Round Walk' is included in the programme. All walks are FREE to attend and can be reached by car or public transport from the city centre. Further information https://www.theoutdoorcity.co.uk/sheffwalkfest.

Millennium Way Walking Festival
The Millennium Way team from 41 Club, in association with Worcestershire County Council, is organising its first 4-day Walking Festival. This will feature 8 fabulous circular walks through the lovely Worcestershire countryside, one each morning and one each afternoon. You can preview the routes from the Millennium Way website home page (see below). The walks are between 3 and 8 miles in length. There is also a walk specially set up on Sunday afternoon for the less able, which is known as the Easy Access Walk. This is for cross country wheelchairs and those with physical restrictions.
Further Information at: http://walking.41club.org/walkingfestival.html
Bedfordshire Walking Festival
2018 will be the tenth annual festival, now an established fixture in the Bedfordshire calendar. No detailed information is currently available, but usually there are walks for almost every ability level. Short 1-2 mile health Walks, 3-4 mile ambles and special interest walks. Rambler led walks for more serious walkers ranging from 5 to12 miles and for people who like a challenge the Greensand Ridge Challenge two-day hike along the Greensand Ridge has been included in previous years.
Bedfordshire may be a small county but has a varied and interesting landscape. The rural north likened by some to the "Wolds". The wooded and most varied middle with excellent ridge views and the Chalk Hills of the South together with interesting towns and villages plus well marked, and generally a well maintained footpath network makes Bedfordshire ideal for walking.
Further information, visit: www.bedswalkfest.co.uk
Walk East Yorkshire Festival
This festival used to be called the 'Yorkshire Wolds Walking Festival'. It is back with a new name to celebrate the 'Great Outdoors' with a packed programme of activities over nine days, appealing to families, casual walkers and outdoor enthusiasts. The festival shines a spotlight on the wonderful landscape of the Yorkshire Wolds, with its rolling hills and wide-open spaces to the rugged shores of the heritage coastline.
Popular events include history tours of our market towns and stately homes, long-distance treks, Nordic walking, canal boat rides, horse riding, cycling, wildlife experiences, vineyard and brewery visits, wild foraging and outdoor yoga!
Further Information at: www.walkingeastyorkshirefestival.co.uk
South East Cornwall Walking Festival
Once again this wonderful bit of Cornwall is ready to be explored by anybody happy to leave the car and take to the paths and tracks. There should be a walk for you, be it a family walk looking at the history of smuggling in the area or a six mile walk across country through verdant valleys. The organisers have provided a varied and interesting selection of walks in previous years and we would expect a similar programme this year.

South Pennines Walk and Ride Festival
The festival is the perfect opportunity to explore the wild and wonderful South Pennines landscape, its heather-covered moors, steep-sided valleys, canals, reservoirs and packhorse trails. Spanning the Yorkshire Lancashire border this area has a fascinating history, offering everything from Neolithic stone carvings to world-changing industrial heritage; and many hidden gems. As in previous years there is a wide choice of events including walks, cycling, horse riding and skills activities.
Further Information at: http://www.walkandridefestival.co.uk/index.php
Wellington Walking Festival
Wellington is a 'Walkers are Welcome' town in the Wrekin Forest area of lovely Shropshire. This year the festival is offering 29 walks on a range of themes and distances to offer something of interest to most walkers. Included is the Telford T50 50-mile trail to be completed in six stages over the course of the festival. The walks are free, but in most cases you must book by email.

Purbeck Walking Festival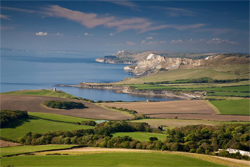 The beautiful Isle of Purbeck is a walker's paradise. From coast to country, the variety is unsurpassed. Purbeck offers something for everyone and the walks have been designed to show as much of the area as possible. Some include a pub lunch in a typical Dorset village and others a ride home on the steam train.
The area is steeped in Dorset history, the Civil War ruin of Corfe Castle, the evacuated village at Tyneham and, of course, the unique geology of the area. All walks are led by local experts. This year there are two walks with a 'War' theme commemorating both World Wars, walks exploring quarrying, shipwrecks, wildlife, ancient civilisation, fossils, literature, art, photography and local history. Really a walk for everyone
Further Information at http://www.walkpurbeck.com/
Blairgowrie Walking Festival
This established festival is really designed for serious and experienced hill walkers. Each walk is linear and the organisers provide minibus transport from the event meeting area in Blairgowrie Wellmeadow. The linear walks make interesting and challenging trips that are not easy to do without multiple car journeys. Once again the organisers have managed to find a range of new walks, from an extended high level trek visiting the peaks of Lochnager, to interesting sections of the Cateran Trail.  From extremely strenuous through to moderate there are walks for most people. All walks are led by qualified guides.
Further information: www.walkingfestival.org
Barmouth Walking Festival
This Walking Festival is a well-established annual event which takes advantage of the fabulous walks and dramatic landscape accessible from Barmouth, on the west coast of Wales. Taking place in September every year, the festival gives walkers of all abilities the opportunity to enjoy guided walks around the beautiful Mawddach Estuary and Southern Snowdonia.
This year the festival has grown a little from previous years and includes 38 walks in four grades of difficulty, so that there is a choice for walkers of all abilities.
Further information and to book www.barmouthwalkingfestival.co.uk
Autumn Footprints Walking Festival
The Autumn Footprints Amber Valley and Erewash Walking Festival offers a range of 42 guided walks over 16 days. The festival has proved to be very popular with both inexperienced and experienced walkers. The walks, led by volunteers and staff from over 20 organisations, will take place in Amber Valley and Erewash. These two areas are well known for their natural beauty, superb scenery, industrial heritage and attractive towns and villages.
All the walks are free of charge, and will take place in areas of local heritage and natural history interest, taking walkers alongside rivers and canals as well as through towns and villages. The walks are of varying lengths and gradient, ranging in length from one mile to ten miles, offering something for everyone no matter what their interests or abilities. They are all led by knowledgeable local people who are enthusiastic to show off their local patch.
Further Information at https://www.ambervalley.gov.uk/council-and-democracy/council-news/press-releases-2018/amber-valley-and-erewash-walking-festival.aspx
Sidmouth Walking Festival
Come along to this festival for a fabulous week of free guided walks and discover the wonderful scenic coastal walking around Sidmouth and the hidden gems of East Devon.
Choose from three daily walks, shorter special interest walks led by experts, circular walks through glorious countryside and the spectacular Jurassic coast or the East Devon Way linear walks with coach transport. All walks are free but there is a charge for coach transport on linear walks.
2018 sees the 25th anniversary of the East Devon Way, a 40 mile walk from Exmouth to Lyme Regis that passes through eight villages and crosses five rivers, showcasing the variety of East Devon habitats. Over 5 days you can walk the 40 miles, each morning the coach from Sidmouth will take you to the start of the day's walk and collect you in the afternoon for the return to Sidmouth.   Details of East Devon Way at www.eastdevonway.org.uk
Further information: www.visitsidmouth.co.uk
Richmond Walking/Book Festival
This festival provides the opportunity for a fantastic break; combining day time walks led by knowledgeable guides, with evening talks from popular and emerging authors. You create your own programme; do as little or as much of either or both.  The Festival is centred in the lively and picturesque market town of Richmond which boasts everything you need to ensure a wonderful day or longer stay, whether a solo traveller or a group of friends
The programme features walks of varying length which take us out into some of the most stunning scenery England has to offer in the Yorkshire Dales and less well visited areas around Richmond.  There are also shorter town based walks of local interest and a programme of health walks. With at least 3 walks per day to choose from you will be spoilt for choice.
Further information at: http://www.booksandboots.org/
Ross-on-Wye Walking Festival
There are fourteen varied walks being planned for this festival, now in its 12th year, offering the chance to explore this beautiful area. Some walks include additional activities such as a ride on a steam train, a lunch cruise on the river Wye or a sumptuous farmhouse cream tea.
The town of Ross-on-Wye has a splendid setting within the Wye Valley AONB overlooking the River and dominated by the beautiful slender spire of St Mary's church.  Ross is an ideal location for walking with plenty of local accessible paths and, used as a base, it is within easy reach of the Malvern Hills, the lower Wye valley, the Forest of Dean and even the Black Mountains of Wales.
Further Information: www.rosswalkingfestival.co.uk
South Lincolnshire Walking Festival
Following the success of the 2017 festival when over 1,000 walkers enjoyed the delights of the Lincolnshire countryside this year there are on offer 61 walks of various distances and for all abilities.
From the Lincoln Edge in the west to the Fenlands of the east South Lincolnshire has an extremely varied landscape that has witnessed Bronze Age burials, Iron Age mints, roman forts, the Knights Templar, castles and abbeys. But the festival isn't only for history lovers! Whether you want to roam with Ramblers, have an adventure with your kids, get snapping on a photography foray or take your pooch out for a guided 'walkies', there's something for everyone. The walks will take place on Fridays, Saturdays and Sundays.
Further Information at: https://southlincswalking.com/
Cowalfest Walking Festival
The CowalFest Argyll 2018 Festival is your eight-day passport to walks and events around the beautiful and fascinating Cowal Peninsula. Leave the crowds behind. Enjoy peace and tranquillity amongst lochs, glens and mountains only 90 minutes away from Glasgow.
This well established, annual walking and outdoor Festival is one of the largest and most varied in Scotland. Led by experienced and knowledgeable guides, and offering rewarding and interesting walks and events catering for all ages and abilities. In addition, there are walk/talks covering a variety of interests, such as bird watching, heritage, geology, photography, and guided tours of Benmore Botanical Gardens.
For further information and booking visit www.cowalfest.org
Crieff and Strathearn Drover's Tryst
After one of their most successful years, with 100% of the number of available walk places booked, the Drovers' Tryst is pleased to announce their 18th walking festival. There will be a full programme of 4 walks a day, with some new walks and some old favourites, ranging from easy to extra hard.  As ever some of these walks will be linear walks using minibuses. In addition, there will be a full social programme in the evenings where you can relax, and perhaps learn something new, after a day in the beautiful Perthshire countryside.
The walk programme will go live on their website around the middle of March 2019. You can also find information on the 'Drovers' Tryst Walking Festival' Facebook page.
For further information, visit www.droverstryst.com
New Forest Walking Festival
Discover the hidden treasures of the New Forest National Park this autumn at the New Forest Walking Festival. Walkers of all ages will be led on bespoke experiences by expert guides highlighting the unique countryside, wildlife, culture and history of this internationally-important landscape. The guided walks are accessible by public transport, and most are free for those who travel by bus, train, bicycle or on foot. Free minibuses will also be provided for some walks.
The festival will boast dozens of guided walks led by knowledgeable local experts to help you discover more about the history, heritage and wildlife of the Forest.
For further information, visit www.newforestnpa.gov.uk/walking_festival
Frome Walking Festival
Frome's Walkers Are Welcome team and Frome Town Council have worked together to create a diverse programme of walks, covering Frome's history in conflict and in peace, majestic trees, pubs and much more. The Walking Festival boasts multiple guided walks, a host of self-guided walks and trails and activities for young and old alike.
The beautiful countryside around Frome is explored, in "Tree Walk" and "Orchardleigh" plus in plenty of self-guided routes available to download online. Those with an itch for history will be catered to by walks including a tour through Frome's most rebellious townsfolk and controversial actions in "Foul Frome", a two-part history of Frome's penchant for non-conforming, through its religious history in "Religious Buildings", and a retelling of Saxon influence in both "Saxon King Way" and "Saxon Frome". Furthermore, families will be catered for with the return of the "Buggy Walk" and the Hayden the Hedgehog walking trail, following the stories of our animal friends, to be completed at everyone's leisure.
Further information to https://www.discoverfrome.co.uk/frome-walking-festival/

© Copyright 2000 - 2022 Walking Pages Ltd. and its associates. All rights reserved