Walking Around Bishop's Castle
Bishop's Castle is a quaint and quirky medieval market town in the hills of South Shropshire, just a few miles from the Welsh border and Offa's Dyke. The town clings to a steep little hillside at an elevation of about 150m and yet is surrounded by higher hills.There is nothing remaining of the original Norman castle, which was the origin of the town, except part of a wall. Until 1967 Bishop's Castle was the smallest borough in England. The town holds a number of annual fetes, including a walking festival, folk festival, real ale festival and a Mayfair and Midsummer fair.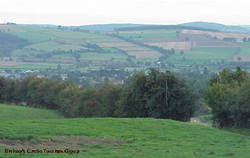 The Shropshire Way comes through the town and it is an ideal base for exploring this ancient and unspoilt land of rolling uplands, valleys and castles. The town has two pubs with breweries attached, The Six Bells and the Three Tuns both of which also offer good fod. There are lots of other pubs and restauants, good small shops and excellent facilities. It is a friendly, down to earth place loved by the local townspeople.
OS Maps: Explorer™ 216
A Walk from Bishop's Castle [SO 324886]
You can enjoy a circular walk of about 7 miles through a gently hilly and mostly pastoral landscape with great views. Leave Bishop's Castle heading north along Bull lane. Head northwest along footpaths via Castlegreen to Bankshead and then Shepherdswhim. Then head south to Bishop's Moat and Upper Woodbatch. Continue south to meet the Shropshire Way, which will take you back to Bishop's Castle.
Best Pub for this walk
Three Tuns, Salop Street Tel: 01588 638797 (Good Pub Guide)
Excellent bar food and restaurant
This walk is fully described in the guidebook '50 Walks in Shropshire' by Julie Royle
When you buy from Walking Pages your complete satisfaction, peace of mind and security are our main priority. Our on-line bookshop is one of the longest established on the internet. We have been serving walkers on line for over six years and have built our reputation on reliable service. Go to our bookshop by clicking on the 'Books' navigation button or one of the walking guide links throughout the site and you will be transferred to our secure server, confirmed by the golden padlock on your browser. Should you decide to purchase you will be tranferred to HSBC plc. secure e-payments for credit card transactions, giving you absolute confidence in your card security. Full information about our terms of trading is provided at the bookshop.

© Copyright 2000 to 2011 Walking Pages Ltd. and its associates. All rights reserved