Walking Festivals
Information for 2014 Walking Festivals
Here is our listing of UK walking festival events planned for 2014. Where we have given specific dates these have been confirmed and the festival will take place. Where only the month is given in the listing below the details are of last year's programmes and it is possible that some of these festivals may not take place this year. However, the listing below will give you an idea of what is likely to be available and a flavour of the events.
Details will be updated as we receive them, so please check back occasionally to see the current status. Please email us if you would like us to update you with details of a specific festival.
Much Wenlock Walking Weekend - 5 to 8 September 2014
This year ten varied walks have been planned over the weekend, plus a social evening. The walks include: (1) St. Milburga Walk - Visit the destination of medieval pilgrims on this walk which passes the site of the abandoned medieval village of Arlescott. Distance: 11km. (2) Wenlock Town Tree Walk - A gentle stroll around Much Wenlock with local arborist, John Tuer. (3) Along the Edge Walk - Starting from Wall-under-Heywood, this walk follows the route of Wenlock Edge via Wilderhope Manor. Distance: 16km. (4) Sheinton Walk - This walk drops down below Wenlock Edge to pass through fields and woods to Sheinton. (5) Geology Walk along Wenlock Edge. (8) The Ironbridge Walk - A walk through a historic landscape scarred by the birth of industry and healed by nature. Distance 17km. (9) Foraging Walk - A relaxing wild food walk around the woods and hedgerows of Much Wenlock. (10) Acton Round/Callaughton Walk - This walk through woods and fields offers beautiful countryside and an historic church. Distance: 14km.
For further information visit www.muchwenlockguide.info
South Pennines Walk and Ride Festival - 6 to 21 September 2014
The South Pennines is the most amazing tapestry of moorland, reservoirs, clough woodlands, rock outcrops, Pennine hills and valleys, of old mill towns and canals rich in heritage, linked to each other with footpaths and bridleways and offering you something unique and different from your everyday life. The majority of festival activities are organised and led by people who live and work in the South Pennines,
There are likely to be over 150 events planned this year, including cycling, horse riding and skills activities. For further information visit the festival website www.walkandridefestival.co.uk
Bedfordshire Walking Festival - 6 to 14 September 2014
This year will be the sixth annual festival, now an established fixture in the Bedfordshire calendar. As usual, there will be walks for almost every ability level. Short 1-2 mile health Walks, 3-4 mile ambles and special interest walks. Rambler led walks for more serious walkers ranging from 5-12 miles and for people who like a challenge a 15 mile day walk and a strenuous 40 mile walk over 2 days. All walks are led by experienced leaders. If you use public transport there are Railway and Bus Walks most days.
Bedfordshire may be a small county but has a varied and interesting landscape. The rural north likened by some to the "Wolds". The wooded and most varied middle with excellent ridge views and the Chalk Hills of the South together with interesting Towns and Villages plus well marked and generally a well maintained footpath network make Bedfordshire ideal for walking.
Information and booking at www.bedswalkfest.co.uk
Blairgowrie Walking Festival - 12 to 14 September 2014
The full title of this festival is the Blairgowrie and East Perthshire Walking Festival. This established festival is really designed for serious and experienced hill walkers. As usual the organisers have produced a range of walks graded from Extremely Strenuous to Moderate. This year's flagship is a rarely walked ancient right of way from Inverey to Glen Shee, but taking in the munro Beinn lutharn Mor. They are also offering sections of the Cateran Trail and more.
For further information visit: www.walkingfestival.org
North Chiltern Trail Walking Festival 16 September to 6 October 2014
To launch the North Chiltern Trail and as part of the Chiltern Society's campaign to raise awareness of the opportunities for walking and other activities in the north Chilterns, the Chiltern Society are holding a mini 'festival' of free walking and other activities. The events include the opportunity to walk the complete new North Chiltern Trail over four separate Sunday walks. Other events include a circular walk taking in the wonderful hills surrounding Barton le Clay, a Nordic Walking taster walk and a map reading skills walk.
Places are limited, so please book early to avoid disappointment.  For updates and to book on these events and to see the full listing of the Chiltern Society's new range of FREE events for 2014 please visit
http://www.chilternsociety.org.uk/activ-events.php
or call the office on 01494 771250.
Snaith Walking Festival - September 2014 (unconfirmed)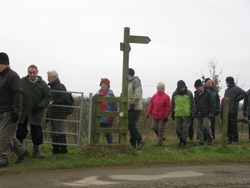 The ancient market town of Snaith in East Yorkshire has history, heritage, waterways and natural beauty all around, which can be discovered and enjoyed during the walking festival, starting with a celebration of Heritage Open Days.
This will be the third Snaith Walking Festival. In 2013 there was a varied programme of over 20 walks, from a leisurely stroll to a 16 mile hike with something to suit any age and ability.  The list included a pub walk, Heritage Walks, a tour of a nature reserve, riverside walks and The Bannockburn Trail.  The trail roughly follows the route taken by King Edward II in 1314 from his hunting lodge at Cowick (Snaith) to Adlingfleet, where he had an army of men and military supplies ready for boarding ships bound for Scotland.

Swanage and Purbeck Walking Festival - 20 to 28 September 2014
The fifth Swanage and Purbeck Walking Festival offers an exciting blend of special, and general interest walks The beautiful Isle of Purbeck is a walker's paradise. From coast to country, the variety is unsurpassed. The coastal walking is spectacular. From a stroll along the beach in beautiful Victorian Swanage to a serious hike along the South West Coast Path, the Jurassic Coast, a UNESCO World Heritage site, the coast is truly special. But the hinterland is extraordinary too - wonderful heathland, walking through designated Areas of Outstanding Natural Beauty and Sites of Special Scientific Interest, with the added attraction of sea glimpses wherever you turn. This tranquil area of Dorset is home to many rare species of birds, wildflowers, butterflies and reptiles. Walks take in the wildlife paradise of Durlston Country Park, heathland at Studland, limestone cliffs along the coast and the RSPB reserve at Arne.
For further information and to book visit the festival website
www.walkswanage.com
Telephone Swanage TIC 01929 422885
Barmouth Walking Festival - 13 to 22 September 2014
This Walking Festival is a well-established annual event which takes advantage of the fabulous walks and dramatic landscape accessible from Barmouth, on the west coast of Wales. Taking place in September every year, the festival gives walkers of all abilities the opportunity to enjoy guided walks around the beautiful Mawddach Estuary and Southern Snowdonia.
This year there are 30 walks, including some new walks, some old favourites and some recycled walks from earlier years.
For more information visit the festival website www.barmouthwalkingfestival.co.uk
Pickering Walking Festival - 26 to 28 September 2014
This year the Pickering Walking Festival will have guided walks that have been arranged to provide a choice of distances and to explore some of the best local scenery and places of interest. Some of the walks will probably include a journey on the North York Moors Steam Railway.
Pickering is a small market town in North Yorkshire situated on the very edge of the North York Moors National Park and has much to offer walkers. To the north of Pickering, the North York Moors National Park provides endless opportunities to explore this wonderful place.  50 kilometres of unbroken heather moorland stretch from the North Sea coast in the east, to Osmortherly in the west.  Directly to the south lies the Vale of Pickering, a low lying, rural area served with a network of footpaths. Dalby Forest is a unique public forest to the east of Pickering, with a network of footpaths and sign-posted trails.
Further information and booking visit www.pickeringwalkingfestival.co.uk
South East Cornwall Walking Festival - 13 to 20 September 2014
Once again this wonderful bit of Cornwall is ready to be explored by anybody happy to leave the car and take to the paths and tracks. There should be a walk for you, be it a family walk looking at the history of smuggling in the area or a six mile walk across country through verdant valleys.
In 2013 the festival included a walk to the Duloe Beer and Cider Festival, catching the train from Looe to Sandplace and then walking up through the East Looe Valley taking in the orchards of 'Cornish Orchards' before arriving in Duloe for a well-earned drink. 'Sand and Smugglers' was a walk for all the family looking back at the stories regarding the trade that went on along the Cornish coast in the 18th century. How much of what we know is true, how much is romantic fiction?
For further information visit www.visit-southeastcornwall.co.uk
Yorkshire Wolds Walking Festival - 13 to 21 September 2014
This fabulous festival offers superb activities that will appeal to families, casual walkers and enthusiasts alike, all in the beautiful Yorkshire Wolds. Take your pick from guided walks, cycle rides, special interest walks and a wealth of special outdoor activities.
The Wolds is known for its excellent walking trails well maintained and signposted. With hidden valleys, chalk streams and peaceful villages, the Yorkshire Wolds is a fabulous place to unwind and enjoy the English countryside at its best. Wander along a leafy lane with its banks of wild flowers; discover a sheep-dotted valley with dramatic views; sit with your legs in a clear fast flowing stream and enjoy the sound of silence. more info...
For further information visit www.theyorkshirewolds.com A full programme will be available here from mid-June.
Autumn Footprints Walking Festival - 13 to 28 September 2014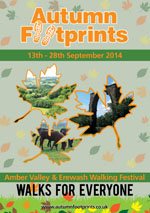 The Autumn Footprints Festival offers a great choice of 40 free guided walks with sixteen days of enjoyable walks and informative talks with something for all abilities from families with young children to seasoned hikers.
 Set in picturesque Derbyshire, The Autumn Footprints Walking Festival takes place in an area known for its natural beauty and superb scenery. Popular with both novice and experienced walkers wanting to enjoy the beautiful colours of autumn and the area's fabulous views, undulating countryside, industrial heritage and attractive towns and villages.
Led by knowledgeable local volunteers and staff keen to show off their patch, you will discover a wide variety of walks to explore local heritage, natural history and wildlife. The routes take in walks alongside rivers and canals, as well as through open countryside, towns and villages.
For further information visit: www.autumnfootprints.co.uk
Kington Walks - 18 to 21 September 2014
Kington is one of the great small towns of Britain and this will be their third Walking Festival. Nestled below Hergest Ridge, this historic drovers' town is at the heart of the Welsh Marches - a perfect destination for all who love the great outdoors and walking festivals. In 2013 there were 32 walks, from gentle to strenuous, so something for all abilities. Explore the wildlife, archaeology or folklore of the area; discover ghosts of former estates, trees with tales to tell, hill forts, lost landscapes and the last haunt of the fairies. All the guides are experienced walkers & guiders, fully trained first aiders and enthusiastic about their subjects – interesting walks led by interesting people.
For more information and booking visit www.kingtonwalks.org
Richmond Walking and Book Festival - 20 to 28 September 2014
Books and boots, walks and words, join us for nine days of book events and guided walks in the beautiful Yorkshire Dales. Richmond Walking & Book Festival is celebrating its 10th anniversary this year by packing it full of opportunities to inspire and invigorate you. Explore the beautiful Yorkshire Dales in autumn; enjoy daily walks for amblers, ramblers and serious walkers led by friendly guides, keen to share their knowledge and enthusiasm for the dales.
Meet celebrated authors and discover new ones; engage in a full programme of evening and weekend book events. This year's Festival features the route of the sell-out fell-run/challenge event, the Swaledale Marathon. Festival walkers will enjoy some of Swaledale's finest scenery at a more sedate pace over four days.
Richmond boasts everything you need to ensure a wonderful day or longer stay, whether a solo traveller or a group of friends.  Picturesque and steeped in history, the market town is the perfect backdrop for this unique festival.
For more information visit the website www.booksandboots.org
Cardigan Walks Festival - September 2014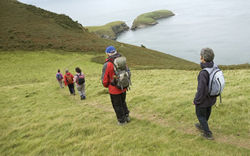 Cardigan Walks Festival is an annual programme of walks and talks in and around Cardigan. A range of walks is planned to cover all tastes and abilities. They include urban walking, countryside walks, tackling the coastal path, and vary in difficulty from easy walking on gentle or no gradients to major ascents and descents.
The theme of the Cardigan Walks Festival in 2013 was local food and produce. They attempted to plan walking routes that allowed walkers to explore and sample the wonderful food and drinks produced in this region. The festival commenced with a talk about the theme of the Festival, followed by a choice of 5 walks over the weekend.
For further information visit the website at www.walk-wales.co.uk
Pateley Bridge Walking Festival - 25 to 28 September 2014
This Festival gives you the opportunity to explore Nidderdale and see its hidden treasures in the company of experienced locals. Superb walks in a variety of terrain, plus great pubs and restaurants. This is a small and friendly Festival where you will be made very welcome. There are a range of walks to suit most abilities.
Information and booking details www.pbwf.co.uk
Ross-on-Wye Walking Festival - 26 to 28 September 2014
This year the programme includes 15 glorious walks providing something to suit all abilities and interests. These include: A forest walk finishing at the Anchor Inn; Doward and High Meadow Trail; Yat Rock from above and below; Wye Valley walk through the 'Hole in the Wall'; Asparagus, wild boar and champagne; Staunton Stones; Goodrich Castle and the River Wye; Forest steam train ride; a walks through Mailscot wood a river cruise and Yat Rock; Two hill forts; cream tea walk; Backney Bridge. Also this year there is an opportunity to cycle or canoe.
The town of Ross-on-Wye has a splendid setting within the Wye Valley AONB overlooking the River and dominated by the beautiful slender spire of St Mary's church.  Ross is an ideal location for walking with plenty of local accessible paths and, used as a base, it is within easy reach of the Malvern Hills, the lower Wye valley, the Forest of Dean and even the Black Mountains of Wales. Two long distance paths pass through the town; the Wye Valley Walk and the Herefordshire Trail. There is also a circular walk from the town called the Ross Round Walk.
Information and booking details www.rosswalkingfestival.co.uk
Mendip Hills Walking Festival - 11 to 14 September 2014
4 days of walks and visits in a beautiful part of the country. The Mendip Hills are found in the northern part of the historic County of Somerset and only 15 miles from the City of Bristol. The hills stretch from Brean Down in the west to the market town of Frome in the east with a huge variations in character throughout the area. On the southern edge is the cathedral city of Wells with the world famous Glastonbury only a few miles away. Cheddar Gorge is the largest limestone gorge in the country and Cheddar is also famous for its caves. Cheddar is not the only gorge, there are others including Burrington Combe and Ebbor Gorge that all have much to offer. As well as the caves at Cheddar, Wookey Hole Caves has additional attractions of interest to everyone. So why not join the Mendip Festival this September.
A full programme of walks and visits is being organised. There will be an opportunity to complete the 40mile long Mendip Way which traverses the full length of the hills. This will be run over four days with a stops at Cheddar, Wells and Shepton Mallet or with transport for return to the start point. Every day there will be a variety of long and short walks to suit everyone, plus a selection of heritage walks around local towns.
For further information visit the festival website at www.mendipwalkingfestival.org.uk
Gillingham Walking Festival - 13 to 21 September 2014
The first ever Gillingham Walking Festival aims to highlight the beautiful surrounding countryside, rare wildlife and local history, with over 20 walks, from short themed walks to longer rambles and social events. Explore the hidden gems of the town or tours of the local history, industrial heritage, rich wildlife and riverside walks.
The Festival kicks off on Saturday 13th September on the Town Meadow with music, refreshments, short walks, Nordic demonstrations, a kid's treasure trail and lots of info on walks and other health activities. For the more adventurous, there are two longer walks taking place on the launch day either to Duncliffe Hill, the largest ancient woodland in North Dorset or you can join the annual 'Ride and Stride' with the Dorset Historic Churches Trust – walking Historic Church to Church with numerous tea and cake stops along the way.
The Festival makes best use of incorporating its transport links with a bus to Stourhead's Palladian mansion and world-famous landscape garden with return walk, or a train journey to Templecombe with a return walk up and over the ridge with spectacular countryside views.
For more information visit the website:
www.threeriversgillingham.org
Alternatively contact Sarah on 01747 824 327 or email crwgillingham@threeriversgillingham.org
North Pennines Walking Festival - 27 September to 5 October 2014

Following the success of the first North Pennines Walking Festival in which an ambitious programme of 50 walks and 9 events was delivered and 400 participants and 80 volunteers involved, the focus is now on this year's festival.
This year's North Pennines Walking Festival will combine the two in one unforgettable programme for 2014. There will be a packed programme of walks and events right across the North Pennines Area of Outstanding Natural Beauty (AONB) celebrating the best local produce the hills and dales have to offer. Whether it's a long hike or a short family ramble the second North Pennines Walking Festival promises something for everyone.
For further information and to book visit www.northpennineswalkingfestival.org.uk
Sidmouth Walking Festival - 27 September to 2 October 2014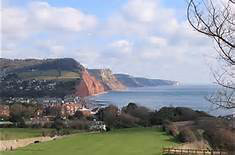 A great opportunity to walk some of the fantastic Jurassic Coast and superb inland countryside.  There will be 2 walks each day led by experienced local walk leaders.
Further information from Sidmouth Tourist information Centre telephone 01395 516441 or email ticinfo@sidmouth.gov.uk A programme will be available shortly at the website www.visitsidmouth.co.uk.
Cowalfest Walking Festival - 3 to 12 October 2014
This annual Walking and Outdoors Festival is one of the largest and most varied walking festivals in Scotland, with more than 80 walks led by expert and knowledgeable walk leaders. The main attraction of the programme is a wide range of walks offering everything for all ages: all levels of fitness and interests whether you're a hardy hill walker, a heritage buff, a family group, a wildlife fan or someone who likes to be busy and learn new skills on holiday - you will find a wealth of walks and events to fill your days and evenings during Cowalfest.
The walks cover interest areas of wildlife, bird watching, drama, photography, art, history, heritage, folklore, tai chi, great gardens, great houses and some great hill walks including the opportunity the complete over 6 days the long distance trail 'The Cowal Way'. All set within the dramatic and historic landscape of Loch Lomond and Trossachs National Forest Park. With all this on offer no wonder people come back to Cowalfest year after year!
For further information and booking visit www.cowalfest.org
1066 Walking Festival - 4 to 10 October 2014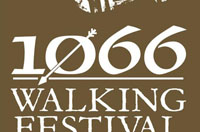 This is the first walking festival for 1066 Country, based around Hastings and exploring the local Sussex countryside.  The festival will be featuring walks to suit all ages and abilities over the 1066 area and will aim to show just how much fun walking can be alongside the healthy aspects.
There will be long and short walks to suit all tastes and fitness levels from 2 mile strolls to 17 mile hikes.  Many of these will be free of charge, or by donation request. On Saturday the six walks will mainly cover the area of the 1066 Country Walk, including the complete Pevensey to Battle route and finish in Battle for a small celebration. Other walks include Hastings Country Park, Rye Heath walk, Greater Bodiam estate, Bexhill to Bulverhythe beach walk and many more
For further information visit: www.visit1066country.com/walkingfestival
Dursley Walking Festival - 10 to 12 October 2014
Dursley is located in the south Cotswolds, close to the escarpment with its glorious woods and views and is a 'walkers are welcome' town. This weekend festival provides a selection of walks designed to appeal to all walkers and to families. There are also some social events. Walks include the Cotswold Way from Stonehouse to Dursley, Cam with Severn Vale views, Wotton Edge, a birding walk, Cam to Coaley, Uley Bury, introduction to geo-caching, a photography walk 'Sunset over the Severn', Dursley, Owlpen and Nailsworth, the Lantern Way between Dursley and Coaley and a Durlsey heritage walk. Afternoon teas available on Sunday.
For further information visit: www.dursleywelcomeswalkers.org.uk
Haltwhistle Autumn Walking Festival - 11 to 19 October 2014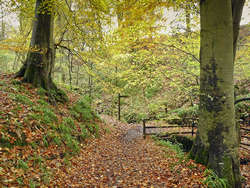 This event will be Haltwhistle's 23rd walking festival, so the organisers have figured out what makes for a good festival. All the walks are led by volunteers who want to share their enthusiasm for the area with you. Haltwhistle lies between the most spectacular section of Hadrian's Wall in the Northumberland National Park and the North Pennines AONB, the beautiful South Tyne valley runs southwards up into the hills.
For further information visit the festival website
www.haltwhistlewalkingfestival.org
Hay Walking Festival - 8 to 12 October 2014
This year will be the fourth Hay Walking Festival and the festival website is now open to take bookings. There is a very full and varied programme of 40 walks this year to suit serious walkers in search of a full day out in the hills, those wishing to walk at a more relaxed pace, as well as those wanting to learn more about the landscape and history of the area.
The organisers have planned a couple of innovations this year including a 3 day Middle Wye Adventure, taking in a 40 mile stretch of the lovely Wye Valley walk, from Hereford to Erwood.  There will also be a torch lit procession up Cusop Hill at dusk on Friday 9th with lots of the walk leaders to guide you on the way!.
For further information visit the website www.haywalking.org
Conwy Autumn Walking Weekend - 9 to 12 October 2014
This four day walking weekend is organised by the Cerdded Conwy Walks Volunteers. Each day there are walks of varying difficulties in different areas. The programme includes a climb up Wales' smallest mountain, which going from sea level doesn't feel so small! Other walks discover the history of the quarry town Penmaenmawr, and discover the fungi that can be found around Trefriw. You can also venture to Aberglaslyn and the Rhyd Ddu valley to enjoy some fantastic walks further afield. Rain or shine, there are two things the leaders can guarantee; that you will be lucky enough to be able to enjoy the spectacular and versatile scenery of Conwy County, and that the Volunteer Walk Leaders of Cerdded Conwy Walks group will make your walk one to remember.
More information and full programme here
Monmouthshire Walking Festival - 25 October to 2 November 2014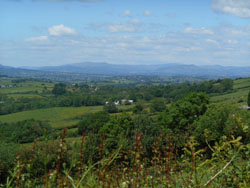 The county of Monmouthshire in South Wales has everything you need for a good walk. From rugged mountains in the north to ecologically important wetlands in the south. Picturesque river-gorges in the east to meandering rivers flowing through rolling countryside in the west. In this centenary year of World War I the organisers are planning walks to commemorate both the first and second world wars. On these walks you will discover how the people and places of Monmouthshire played their part in these events. You may visit a secret bunker, the grave of possibly the last combatant killed in World War I or even join Dad's Army on exercises.
The walks will vary in length from 3 miles to 20 miles through this landscape of sharp contrasts: flat coastal wetlands of the Gwent Levels; picturesque mountains in the north, Brecon Beacons National Park; the Wye Valley AONB and the peaceful rolling farmland of the Usk and Monnow valleys.
Information and booking will be available online from 1 September at
www.walkinginmonmouthshire.co.uk
Bollington Walking Festival - 18 to 27 October 2014
A week of fabulous walks exploring the scenery, heritage and wildlife of Cheshire's Peak District, some challenging, others a stroll in the park! Nestling in Cheshire's Peak District, Bollington is surrounded by great walking country. These wonderful walks led to the creation of the Bollington Walking Festival, now established as an annual event.
There is a great programme of walks and social events over the Festival. There are 31 walks of varying length designed to suit all abilities and ages – even a Bear Hunt and activities for children during half term. Find out more about the famous and unique features found scattered throughout the local countryside. White Nancy, built as a summerhouse by the Gaskell family in 1815, stands as an impressive landmark overlooking the full majesty of the town. Walk the waterways including the Macclesfield Canal, which meanders past the mighty splendour of Clarence Adelphi Mills, with Lowerhouse Mill in the distance. Visit the Discovery Centre at Clarence Mill for Bollington's fascinating history. Visit Lowerhouse, site of Samuel Greg's 'Happy Valley' with its mill, workers' cottages and schoolhouse.
Further information see walks leaflet, phone 01625 576311 and to book visit www.cheshirepeakdistrict.com
Isle of Wight Autumn Walking Weekend - 24 to 27 October 2014
The Isle of Wight is a walker's dream, being located just a few miles from the mainland and two hours from London, and offering over 500 miles of well-maintained footpaths through spectacular breath-taking scenery and terrain, making it the perfect place for a walking holiday or break. With footpaths that wind through fields and forests, and its 64 miles of coast paths adjacent to some of the Isle of Wight's most dramatic coastline and beaches, the Autumn Walking Weekend gives you the opportunity to breathe in the beautiful scenery and autumnal colours the Island has to offer.
There are walks for all ages and abilities, all led by friendly and knowledgeable leaders, who will take you on a journey of mystery, intrigue and exploration as you traverse our countryside, woodland, pastures, meadows and footpaths of the Island. The Island has long been a source of inspiration to visitors, and for a taste of this, step back in time and follow in the footsteps of the Poet Laureate, Alfred Lord Tennyson, Robert Hook, John Milne or Jimi Hendrix. Or stroll in the most enchanted and historic gardens of Osborne House, Queen Victoria's much-loved residence at East Cowes. Or simply step out on children's walks, alpaca walks, walks from rails, Ramblers walks, exploration walks, history walks, nature walks, speed dating, foodie walks, fossil walks, Nordic walking, adventures and more.
For further information and to book visit www.isleofwightwalkingfestival.co.uk
Snowdonia Walking Festival - October 2014
Snowdonia is famous the world over for its majestic rugged beauty. Betws y Coed is long renowned for its stunning scenery, emerald forests and fast flowing rivers; a natural base for a walking festival. For over a century, walkers have been drawn to the village and the region in their thousands to enjoy the great outdoors. No more so than in October when the regions premier walking festival is to be staged.
Every walk will be guided by a local expert with many years experience and knowledge of the forests, lakes and mountains that encircle the village of Betws y Coed. Each level of fitness will be catered for - from three mile strolls for beginners through to all day treks for the more experienced mountain walker.
For further information visit the website:
www.snowdoniawalkingfestival.co.uk
New Forest Walking Festival - 18 October to 2 November 2014
Discover the hidden treasures of the New Forest National Park this autumn at the New Forest Walking Festival. Walkers of all ages will be led on bespoke experiences by expert guides highlighting the unique countryside, wildlife, culture and history of this internationally-important landscape. The guided walks are accessible by public transport, and most are free for those who travel by bus, train, bicycle or on foot. Free minibuses will also be provided for some walks.
For further information visit www.newforestnpa.gov.uk/walking_festival
Festivals that have already taken place in 2014
Boscastle Walking Week Festival - 28 March to 5 April 2014
Blaenavon Walking Festival - 5 to 11 April 2014
Walk Scilly Walking Festival - 12 to 18 April 2014
Chepstow Walking Festival - 12 to 14 April 2014
Dearne Valley Walking Festival 12 to 19 April 2014
Haltwhistle Spring Walking Festival - 26 April to 6 May 2014
North Devon and Exmoor Walking Festival - 26 April to 5 May 2014
Ulverston Walking Festival - 26 April to 5 May 2014
Settle Carlisle ride2stride Walking festival - 29 April to 5 May 2014
Llangollen Walking Festival - 3 to 4 May 2014
Cambrian Mountains Bro Tregaron Walking Weekend - 2 to 5 May 2014
Corby Walking Festival - 3 to 5 May 2014
Peak District Walking and Outdoors Festival - 26 April to 11 May 2014
Bristol Walking Festival - 26 April to 26 May 2014
Isle of Wight Walking Festival - 4 to 19 May 2014
Chesterfield Area Walking Festival - 10 to 18 May 2014
Jersey Spring Week Walking Festival - 10 to 17 May 2014
Garstang Walking Festival - 10 to 18 May 2014
Suffolk Walking Festival - 10 May to 1 June 2014
Isle of Man Walking Festival - 11 to 17 May 2014
Trefriw Walking Festival - 15 to 18 May 2014
Winchcombe Walking Festival - 16 to 18 May 2014
Prestatyn and Clwydian Range Walking Festival - 16 to 18 May 2014
Isle of Arran Mountain Festival 16 to 19 May 2014
National Forest Walking Festival - 17 to 29 May 2014
Lincolnshire Wolds Walking Festival - 17 May to 1 June 2014
Llanelli Walking Festival - 23 to 26 May 2014
Malvern Hills Walking Festival - 24 May to 1 June 2014
Wirral Walking Festival - 1 to 31 May 2014
Wrexham Walking Festival - 1 to 7 June 2014
Angus Glens Walking Festival - 5 to 8 June 2014
Church Stretton Walking Festival - 5 to 8 June 2014
Gower Walking Festival - 7 to 22 June 2014
Bishop's Castle Walking Festival - 10 to 12 June 2014
Arundel Walking Festival - 14 to 16 June 2014
Herefordshire Walking Festival - 14 to 22 June 2014
Wellington Walking Festival - 16 to 22 June 2014
Moray Walking Festival - 19 to 23 June 2014
Holywell Walking Festival - 20 to 22 June 2014
Rothbury and Coquetdale Walking festival - 21 to 28 June 2014
Otley Walking Festival 21 to 29 June 2014
Conwy Walking Festival - 2 to 9 July 2014
Guildford Walkfest - 12 to 27 July 2014
Black Combe Walking Festival - 18 to 24 August 2014
White Cliffs Walking Festival - 21 to 27 August 2014
Corwen Walking Festival - 30 to 31 August 2014
Scottish Borders Walking Festival - 31 August to 6 September 2014
Follow us on Twitter for festival news and special offers


© Copyright 2000 - 2013 Walking Pages Ltd. and its associates. All rights reserved